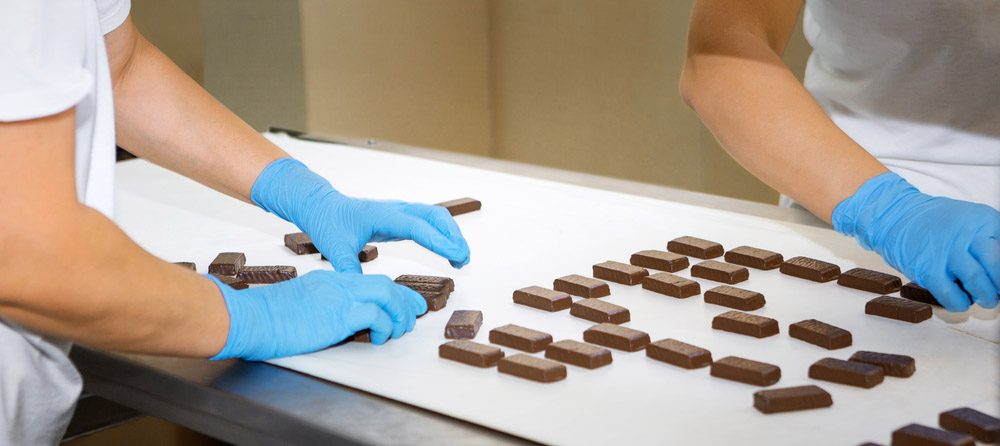 Date Posted: 10th Dec 2015
Professional Chocolatier – Blu Fine Chocolate Company
We are looking for a professional chocolatier / chocolate maker who can join our team and is willing to relocate to Sharjah, United Arab Emirates. He/She should have an extensive knowledge involving the flavour, texture and other properties of chocolate. He/ She will be responsible for tempering all types of chocolate using several skills to create all types of moulded or hand shaped chocolate
Must Have:
1-3 years experience as a Chocolatier
Knowledge of how to properly temper and mold all types of chocolates by tempering machine or manual
Knowledge of how to decorate confections using all types of decorating materials (spray gun, transfer sheets, writing skills on confection, etc)
Diploma Certification in a Culinary discipline from a reputable College or University is a definite advantage
Have a passion for artisan chocolate and experience in the pastry field is a definite advantage
Can communicate fluently in English language
Average skills in different MS Office applications
Analytical, highly responsible and reliable
Customer driven and motivated
Team oriented
Ability to work well under pressure in a fast paced environment
Benefits:
Competitive Salary
Housing
Annual Ticket
One month paid holiday/vacation
Medical Insurance
Renewable 2 years contract
Employment Visa
Company Profile:
Modern Investment has been in the Gulf Market for over 30 years. Our vast experience and expertise in the field of investments has made our company into a huge diversity of business covering different industry segments such as:
Big chain of Hypermarket (Mega Mart)
Malls (Mega Mall- Sharjah and Yelmani Mall)
Real Estate SAAS Properties
Furniture shops (2XL Furniture)
Electronic shops (Costless Electronics)
Health and Wellness (COYA Spa)
Chain of Pizzeria (PIZZARO), operating over the UAE and other gulf countries
As we expand our business horizon we are planning to open an Artisan Chocolate shop in the main city of the United Arab Emirates – Abu Dhabi. We are going to manufacture a prime and exclusive chocolate with special packaging. And we are looking for specialists in this field such as chocolatiers and chocolate makers who are willing to relocate in United Arab Emirates.
Contact Details:
Taisiia Zinovchenko (Project Associate)
MODERN INVESTMENT GROUP
Phone No.: +971 6 598 3302
Fax No.: +971 6 530 94 01
Email: taisiia@blufinechocolate.com
Address: Sharjah, UAE
This information is reproduced as presented by the hiring company. Applicants are advised to research and contact bonafide employers independently. The academy does not endorse or assume responsibility for any applicants or employers.